| | |
| --- | --- |
| Listen to the audio file of Chapter One | |
I consider myself extremely fortunate to have had 63+ exceptional years of marriage to a wonderful woman, Hildegard, before she passed away when I was 85.  And I have now been blessed with a new beginning:  over one year and a couple of months later, on my 87th birthday, I married a younger Fijian beauty, Meredani.  41 years younger – no kidding.  Here are some photos of us: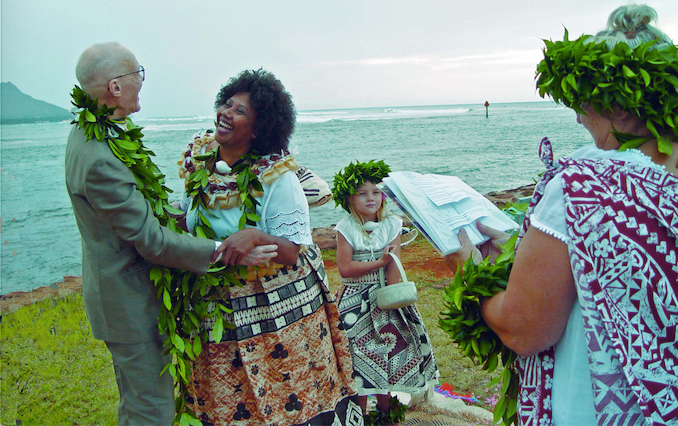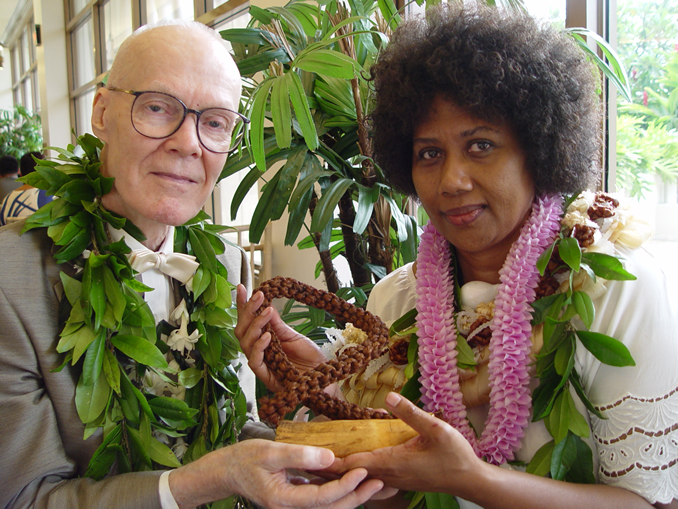 Only a select few had been given two weeks' advance notice of the wedding that was going to take place.  The rest of the world received no notification because it was to be a surprise wedding, a very private affair "far from the maddening crowd" and with the news only getting out afterwards.
The flood of responses to our announcement was very enthusiastic and jubilant.  Here are just two examples:
(A)
This one is from Hildegard's longtime principal physician, and close personal friend, from when we came to Hawaii in the 1990s until the very end.
From: Dr. Sue Ja Park
Subject: Re: Surprise…
Date: May 8, 2016 at 10:27:30 PM HST
To: Win Straube
WOW what a surprise !!!!!!!
The BEST NEWS I have heard in a long time !!!!!!!
CONGRATULATIONS !!!!!!!
BEST WISHES for a long long happy life together.
I am positive that Hildegard is very happy to know that you are married and that she gave you her best BLESSINGS.
Thank you for the delightful HAPPY NEWS.
Congratulations again !!!!!!!
Sue Ja
(B)
"Dragonfly" lives in Vermont, a book reviewer for Roundtable Reviews, which, by the way, has provided many book critiques for Amazon.  She is the "Dragonfly" who reviewed my book "Enjoying the Ride" in 2002 and became a personal friend to both Hildegard and me.
From: Dragonfly
Subject: Re: Surprise…
Date: May 10, 2016 at 12:42:51 PM HST
To: Win Straube
Hi Win…
Happy birthday and my sincere congratulations!  A second marriage such as yours is a testament to the love you had in the first one.  I'm sure you and Meredani will be quite happy.  I would have dropped in but, alas, I'm just a bit too far away. You both look very happy.
Sometimes, as you know, people can and do frown upon second marriages after a long first one.  My advice is to ignore them and simply cherish the time you have together.  Any plans for a honeymoon?  You're probably in one of the most beautiful parts of the world, but you could do a little something to celebrate.  I'm just so thrilled that you have found someone to share your life with.
Regards to lovely Meredani.
Take care!
Dragonfly